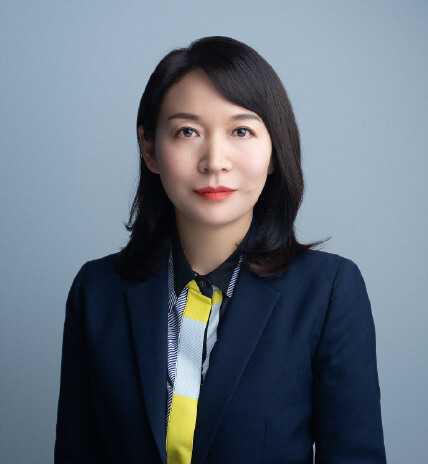 Ning Zhu

Beijing

Member of PRC Bar

Managing Partner

Practices:

Capital markets, Corporate finance, Cross-border investment, M&A
Tel:

8610 8587 0075

Fax:

8610 8587 0079

Email:

ning.zhu@chancebridge.com
Areas of Practice
Ms. Zhu Ning is the managing partner of Chance Bridge. Ms. Zhu's practice areas focus on capital market, finance and cross-border M&A. She has extensive professional experience in the areas of corporate listing, M&A and restructuring, private equity and venture capital, Chinese outbound investment and M&A and arbitration.
Expertise
Capital Market, Corporate Finance, Cross-border M&A
Work Experience
Ms. Zhu Ning joined Wandaxin Partners in 1996 and began practicing law.
From April 1999 to November 2011, Ms. Zhu worked in Guangdong Guangda Law Firm, and became a partner there in June 2002. Ms. Zhu served as the Head of Guangdong Guangda Law Firm Beijing Branch from May 2008 to November 2011.
Between August and December 2006, Ms. Zhu worked at an international law firm Dewey & LeBoeuf London as a foreign exchange associate.
From November 2011 to present, Ms. Zhu is the Managing Partner of Chance Bridge.
Education Background
Graduated from Renmin University of China Law School with a PhD in Securities Law in 2017
Graduated from UK (Glasgow) School of Law with a Master of International Commercial Law in 2006
Graduated from Peking University with a Bachelor of Laws in 2004
Graduated from Yan'an University with a Bachelor of Arts in 1995
Working Languages
Chinese (Mandarin, Cantonese), English
Provided legal services for Jinhui Mining,Jinhui liquor,SEUIC Technologies Co., Ltd.,Beijing Orion Star Technology Co., Ltd. and other IPO projects
Provided legal services for the private placement projects of Jinhui Liquor, Amsinomed Medical Co., Ltd.
Provided legal services for the NEEQ Public Listing of Zhongzhen (Beijing) Examination Engineering Co., Ltd., Nattu Electric, Boxcool,etc
Provided legal services for asset securitization projects of Shuifa Group, Weiqiao Jinbao, Capital Securities and Jilin Public Transport
Provided legal services for the bond issuance projects of Oriental Garden, Hubei Yunhua and Qiannan Investment Corporation
Provided legal services for domestic M&A projects, such as Beijing Supply and Marketing Cooperative's acquisition of Science and Technology Development Group, Changyuan Lico introducing strategic investors and Homelink's acquisition of several real estate brokerage companies
Provided legal services for overseas M&A projects, such as China Sam's acquisition of Australian WOF Petroleum, ADB Safegate BVBA's acquisition of Ultra Airport System's Chinese subsidiary
Provided legal services for various fund investment projects, such as China State-owned Enterprise Structural Adjustment Fund Co., Ltd., Science and Technology Innovation Fund, SBCVC, CITIC Gold Stone
Provided legal services for Huilong (Hengqin) to raise funds, establish funds and invest in China Integrity projects
Provided special legal services for Bohai International Trust and COFCO Trust in establishing collective fund trust plans
Selected in Foreign Legal Talents List by Ministry of Justice of the People's Republic of China (2017-2020)
"Outstanding Lawyer of Beijing from 2015 to 2018"by Beijing Lawyers Association (2019)
"Friend of Party Building in Beijing Lawyer Profession" by Beijing Lawyers Association (2019,2020)
"The A-list 100 Elites" by CBLJ (2016-2021)
"Top Law Firm Leaders of the Year" by Jiemian (2020)
"Highly Regarded Lawyer in M&A" by IFLR1000 (2020,2021,2022)
"Client Choice 20 Top Lawyers of the Year" by ALB (2016)
"One of the Top 15 Rising Lawyers" by ALB (2014)
"Recommended Lawyer in Capital Markets" by Who's Who Legal (2021)
The project "Sam Group acquires a majority stake in Wolf Petroleum" led by Ms. Zhu was awarded the "Deal of the Year in 2016" by China Business Law Journal (2016)
Arbitrator of China International Economic and Trade Arbitration Commission
Member, Board of Directors of Asia Pacific Law Association (LAWASIA), and Belt and Road Standing Committee
Director of Finance Committee of the Belt and Road International Lawyers Association
Member, deputy director of research department of China Bar Law Research Association
Deputy Secretary-General of Legal Affairs Committee of Beijing Lawyers Association on Merger and Acquisition and Reorganization
Deputy Secretary-General of Beijing New Social Stratums in Lawyer Profession
Member, Western Returned Scholars Association(Overseas-educated Scholars Association of China) 
Adjunct Professor, Renmin University of China Law School
Distinguished Professor of East China University of Political Science and Law Lawyer Institute
Published monograph "Cross-border M&A: Compliance Management. Risk Management. Financing Arrangements" in 2021 by China Legal Publishing House
Published monograph "Research on Dual A + H Public Offering of Chinese Companies" in 2018 by China Legal Publishing House
Contributed editor, "Securities Law", ed., Prof. Dong Ansheng, Peking University Press, 2018
Published "Research on Supply Chain Finance and Its Legal Issues Led by Third-Party Trading Platforms" in 2016 in "Application of Law" magazine
Published "Building a Scientific VIE Regulatory System" in 2016 in "China Finance" magazine