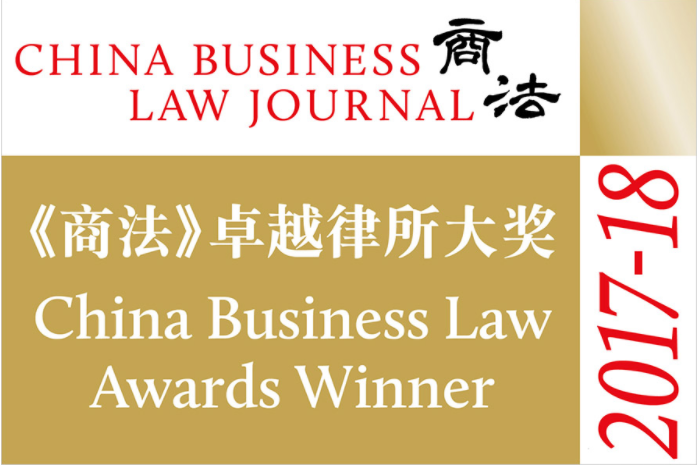 Chance Bridge Partners is honoured to announce that we are again listed among the Law Firms of the Year for structured finance and securitization.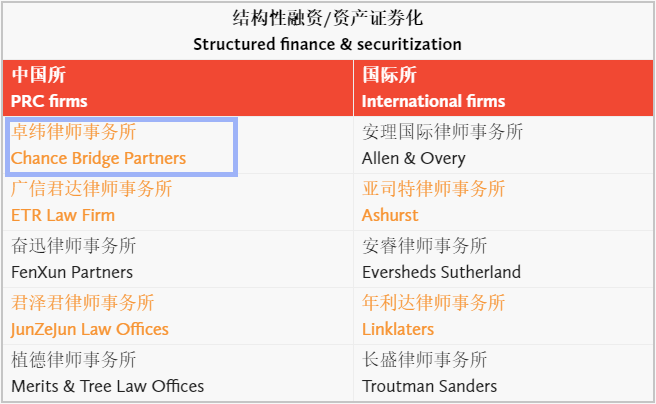 Established in 2006, the China Business Law Journal is a leading bilingual law journal in the international market, which focuses on providing practical legal opinion and in-depth analysis for Chinese decision-makers, corporate counsel, and lawyers across the world in the realm of cross-border investment. The China Business Law Awards are based on nominations made by, and comments received from, China-focused corporate counsel, senior executives, and legal professionals from around the world. The journal consulted widely with legal clients through surveys to ascertain their satisfaction level with the services provided by the relevant firm. To determine the winners, the journal assesses the nominees' landmark deals, cases, and other notable achievements occurring over the preceding year, in correlation with the nominations and comments received from those surveyed.

As a law firm that excels in delivering advanced corporate, commercial, and financial legal solutions, Chance Bridge is recognized as a pioneer in capital markets thanks to its wealth of project experience and outstanding performance. Chance Bridge lawyers are equipped with rich expertise in structured financing and securitization. The firm is particularly adept at providing practical and tailored solutions based on the client's industry, business model, and individual needs, and assists in accurate and efficient transaction completion. Over the past year, Chance Bridge has undertaken some notable cases in the realm of structured financing and securitization, including: a property rights trust project for a prominent Internet enterprise; Ping An Kaidi Power's dedicated asset-backed plan for online charging rights (phases I and II); debt asset securitization for Shandong Zibo Jinyang Heating Co., Ltd.; CITIC Futong Financial Leasing Phase I Asset Support Project; and a property rights trust project for China Aluminium Finance Leasing Co., Ltd.

In the property rights trust project for the notable Internet enterprise, Chance Bridge Partners participated in every aspect of the project, from designing the business transaction framework, and formulating underlying asset screening standards for clients. The firm was in charge of producing the entire set of business transaction documents and issuing legal opinions. Based on the characteristics of the client's supply chain financing, Chance Bridge designed a cyclical advance payment mechanism, which strikes a dynamic balance between protecting the internal asset pool and administering online account funding, as well as providing asset pool alert levels, asset replacement, asset redemption, inventory repurchase, and other measures to boost trust. To guarantee the quality of the assets entering the pool, Chance Bridge also sought to reduce the project's associated legal risks and liquidity risk.

Chance Bridge initiated Phase I of Ping An Kaidi Power's dedicated asset-backed plan for online charging rights through several original stakeholders, based upon the characteristics of the underlying assets for biomass electrical power online charging rights. Chance Bridge lawyers combined the laws and regulations contained within the 'Electric Power Law of the People's Republic of China' and the 'Law of the People's Republic of China on Renewable Energies', to create an innovative project that promoted communication with the relevant supervisory authorities, expounded upon underlying asset and transfer legitimacy, installed mechanisms for buyback, redemption, and cash deposit preservation, and a mechanism for subsidising electricity costs. Our lawyers produced a complete set of business transactions and legal opinions, and successfully helped the client to obtain RMB 1.2billion in securitisation financing. For Phase II, our lawyers visited original stakeholders, and collected and consulted with a substantial body of government rulings and contracts regarding stakeholder liability. A thorough investigation of the circumstances surrounding machinery and equipment collateral, equity pledge, and real estate collateral was undertaken, and complete set of business transactions and legal opinions were subsequently issued and fed back to the relevant supervisory authorities. Chance Bridge successfully helped the client obtain RMB 2billion in securitisation financing.

In the contracted creditor asset securitisation project for Shandong Zibo Jinyang Heat Supply, Chance Bridge lawyers led the pre-transaction asset redeployment process. We met with the relevant government authority in charge of heating supply business franchises, and undertook comprehensive due diligence regarding the main aptitudes of original stakeholders, and sustainable business capabilities etc.. We provided assistance to cooperative brokers in the selection of underlying assets, and in calculating the area of heat supply. We also endeavoured to expound upon the legitimacy of land use and environmental concerns relating to heating supply stations, and produced a complete set of business transactions and legal opinions.

As a result of its outstanding legal services in the capital market sphere, Chance Bridge Partners was also honoured with the 'Global Award' by Corporate Intl Magazine.

https://www.vantageasia.com/zh-hans/2017年商法卓越律所大奖/
https://www.vantageasia.com/china-business-law-awards-2017/