Ning Zhu, Managing Partner of Chance Bridge Partners has been appointed to the Asia Pacific Regional Advisory Committee of Alliott Global Alliance, one of the world's largest international alliances of independent law and accounting firms.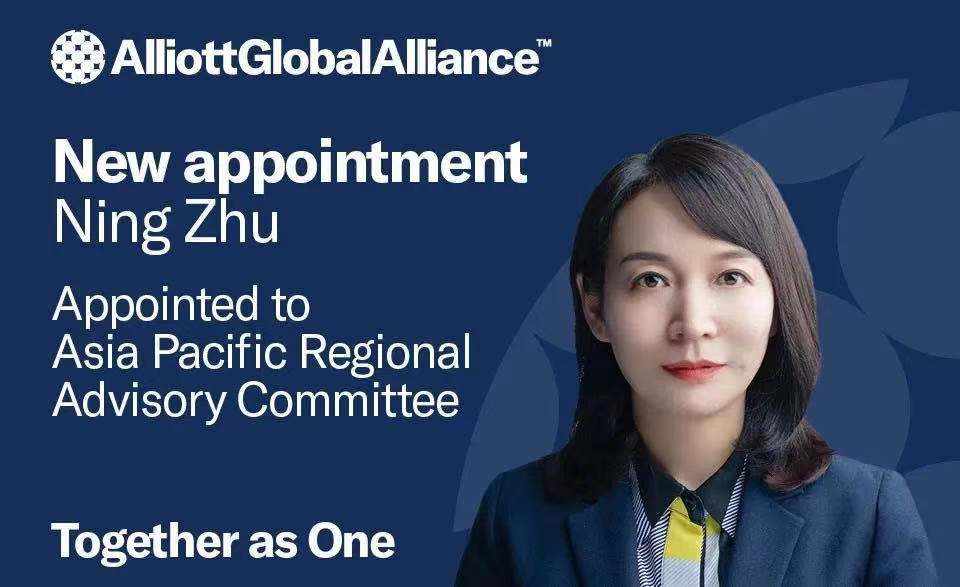 Ms. Zhu joins other senior partners from some of the region's leading independent law and accounting firms on the committee. Alliott Global Alliance has member firms in 80 countries, including in 15 countries across Asia Pacific.
With a focus primarily on capital markets, cross border investment, M&A and financing, Ms. Zhu is highly experienced both domestically and internationally in representing clients in many large-value cases involving corporate governance, venture capital and equity markets. Highlights include providing legal services to Beijing Capital Culture Development Co., Ltd. for its acquisition of several venture capital enterprises and providing legal services for the acquisition of Huizhou Oil Storage Company by Strong Petrochemical Holdings Limited.
Ms. Zhu was also recently chosen for the fourth year running as one of China's elite 100 lawyers by the China Business Law Journal.
Ms. Zhu joins the region's leadership team at a time of strong alliance growth in the region. Law and accounting firms recently joined in Hong Kong (H.Y Leung & Co), Thailand (GPS Accounting & GPS Legal), Bangladesh (Old Bailey Chambers & K.M. Alam & Co), Thailand (Jeeva Partnership) and Singapore (Advocatus). Chance Bridge Partners became the alliance's first law firm member in China when they joined the alliance in April 2020.
As a regional committee member, Ms Zhu will play an important part in helping to develop and monitor the implementation of the alliance's strategic plans and will also help to create innovation in the region which will bind members closer together and advance the alliance's value proposition.
Ms. Zhu comments:
"The alliance's strategy emphasises strategic and sustainable growth in this region and worldwide. As a member of the committee, I have an excellent opportunity to help develop the alliance's reputation in the Greater China and Asia Pacific regions. We are a fast-growing and ambitious alliance that brings together high calibre, independent firms serving domestic and international clients. I look forward to working with my colleagues on the committee to propel our alliance forward."
Alliott Global Alliance COO, Giles Brake adds:
"Adding a dynamic and inspirational leader such as Ning to the region's advisory committee reflects our commitment to ensuring that we have people on the team who can help us to keep moving the alliance forward in the Greater China and wider Asia Pacific regions. We fast-tracked Ning's appointment to the committee owing to her commitment and energy. I have no doubt that she will lead from the front in promoting the alliance in the region and leading initiatives that will support our member firms in doing business together. We welcome Ning very warmly to the committee."
Alliott Global Alliance is growing continuously and now has member firms in the following APAC countries: China, Hong Kong, Bangladesh, Singapore, Indonesia, Malaysia, India, Australia, New Zealand, Japan, South Korea, Nepal, Pakistan, Thailand, and Taiwan.